CAMP ANNUAL MEETING
The Annual Meeting for Citizens Advocating Memorial Preservation, Inc, (CAMP) will be held Friday, August 4, 2023 starting at 1:30 PM.  This meeting will be held at 302 Court St., Little Valley NY 14755, inside the former Board of Elections portion of the Memorial Site.
This meeting will be held for the purpose of electing Board Directors and Officers of the Corporation; receiving annual reports from the Board and Officers; and for the transaction of such other business as may be brought before the meeting.  Anyone interested in CAMP'S efforts is encouraged to attend.
NOTE: A pre-meeting luncheon, starting at noon, will take place at the Ellicottville Brewing Company-Little Valley;  202 Second St. Little Valley, NY  14755  (phone:  716-699-2537)
DONATION OPPORTUNITY
Want your donations to CAMP (Citizens Advocating Memorial Preservation) doubled? Give 716 is a giving event supporting nonprofits in Western New York (area code 716). It is sponsored by the Buffalo Bills, the Buffalo Bandits and the Buffalo Sabres Foundations. It is centered on July 16 each year. This year it will run from July 16 at 7:16 PM to July 18 at 7:16 AM.
There are hours during the day when donations are matched, or random prizes are given. (Most of those times will be early on July 17. More details later.) Mark your calendar for a gift on July 17 to CAMP that may be twice as great!
CAMP
Rehabilitate and Reuse the Civil War Memorial Building in Little Valley
This Civil War Memorial Building was completed in 1914 to honor the courage of the 3500 men who served from South Western New York. It is the most prominent Civil War building in the area. The building's octagonal shape symbolizes renewal, and the dome that once crowned this site represents eternity. More than half of the soldiers never returned. Many of the remainder were wounded or taken prisoner. Now it is up to us to make sure it will forever stand and we can once again relight the Dome of Courage!
HINTS for getting your CAMP donation matched on July 17, 2023:
Optimal times are early in the hours of 7:00 AM, 8:00 AM, 12:00 noon, 1:00 PM, 2:00 PM, 7:00 PM, and 8:00 PM. The maximum match is $500. Other times have restrictions as to charity types.
CAMPS web address for this event is
https://give716.org/give/give716/give716/2023/charities/citizens-advocating-memorial-preservation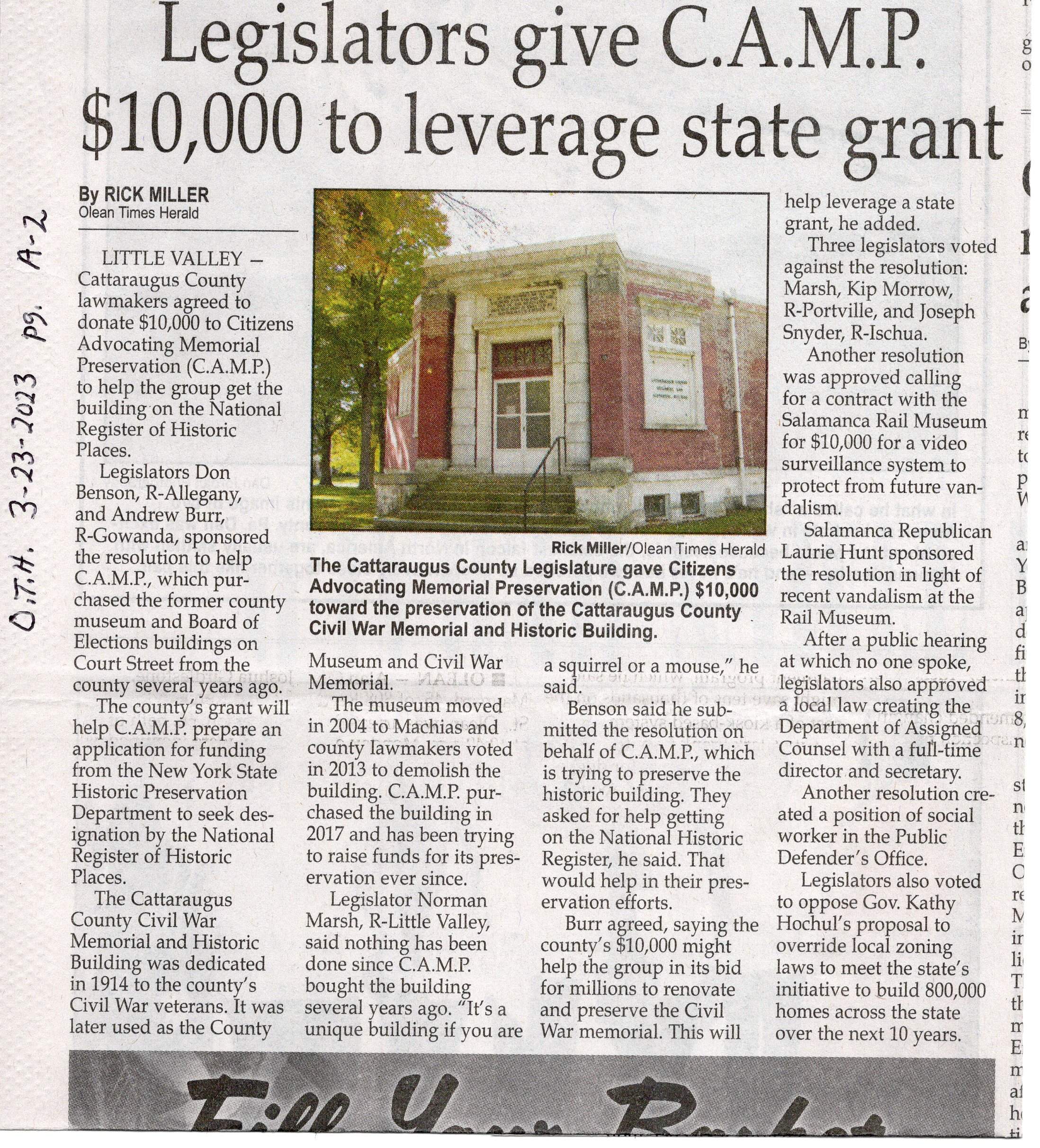 Since taking ownership of the Civil War Memorial Building in Little Valley, NY, CAMP has conducted and completed several significant projects to rehabilitate and bring awareness to the site:
October 4, 2017—CAMP purchased the Civil War Memorial Building site at auction
August 25, 2018—CAMP hosted the 33rd Annual Reunion of Descendants of the 154th New York Regiment at the Civil War Memorial Building in Little Valley, NY
November 11, 2018 (Veterans Day)—CAMP ceremony to unveil a New York State Historic Roadside Marker at the Memorial site, funded by the William G. Pomeroy Foundation.
August 27, 2019—R.E. Kelley, Specially Contractors applied wrapping to secure architectural masonry features along the Memorial Building's cornice.
December 7, 2019—CAMP members, volunteers, and Dwyer Veterans installed a 4′ x 8' Memorial Preservation Project information sign at the Memorial site.
July 3, 2020—New multi-layered spray foam roof system completed on the Memorial Site.
Summer 2021—Obtained estimates for asbestos abatement work; Building Code requirements for Certificate of Occupancy of Memorial Site.
2022 Contracted with Clinton Brown Architecture Company P.C. for plans to utilize the Board of Elections portion of the building as offices for rental income to support the Memorial.
Preliminary plans have also been drawn up to renovate the exterior of the building.
CAMP's work is far from complete.  Your donation will help to support our next initiatives:
Exterior work on the Memorial.
Repurposing of the BOE for income for the operation of the Memorial.
Continued architectural and masonry repairs.
CAMP thanks you for your support, past and present.