Informational Packet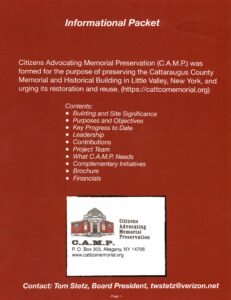 Please contact CAMP if you would like a complete copy of the 16 page Informational Packet.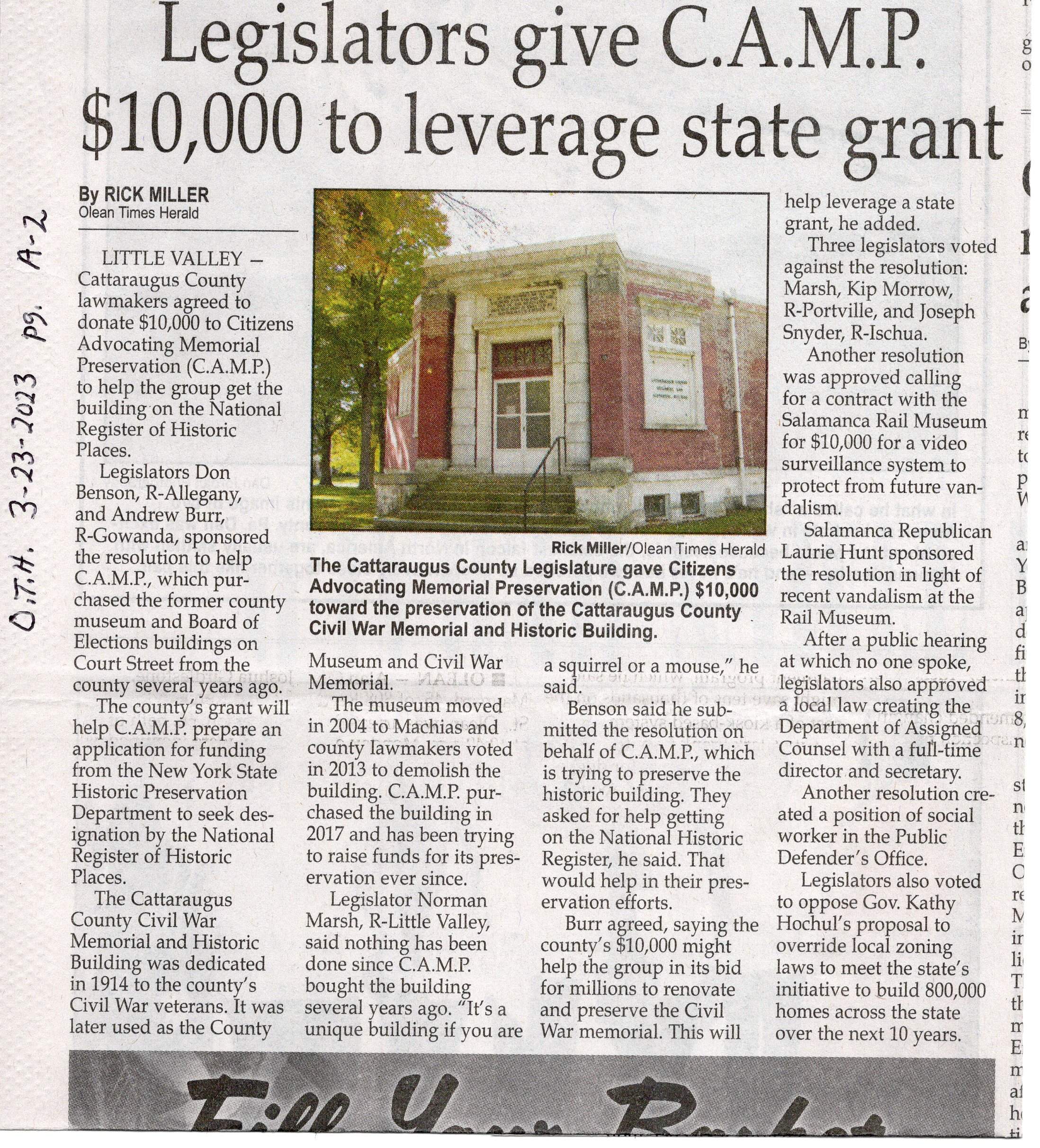 Since taking ownership of the Civil War Memorial Building in Little Valley, NY, CAMP has conducted and completed several significant projects to rehabilitate and bring awareness to the site:
October 4, 2017—CAMP purchased the Civil War Memorial Building site at auction
August 25, 2018—CAMP hosted the 33rd Annual Reunion of Descendants of the 154th New York Regiment at the Civil War Memorial Building in Little Valley, NY
November 11, 2018 (Veterans Day)—CAMP ceremony to unveil a New York State Historic Roadside Marker at the Memorial site, funded by the William G. Pomeroy Foundation.
August 27, 2019—R.E. Kelley, Specially Contractors applied wrapping to secure architectural masonry features along the Memorial Building's cornice.
December 7, 2019—CAMP members, volunteers, and Dwyer Veterans installed a 4′ x 8' Memorial Preservation Project information sign at the Memorial site.
July 3, 2020—New multi-layered spray foam roof system completed on the Memorial Site.
Summer 2021—Obtained estimates for asbestos abatement work; Building Code requirements for Certificate of Occupancy of Memorial Site.
2022 Contracted with Clinton Brown Architecture Company P.C. for plans to utilize the Board of Elections portion of the building as offices for rental income to support the Memorial.
Preliminary plans have also been drawn up to renovate the exterior of the building.
CAMP's work is far from complete.  Your donation will help to support our next initiatives:
Exterior work on the Memorial.
Repurposing of the BOE for income for the operation of the Memorial.
Continued architectural and masonry repairs.
CAMP thanks you for your support, past and present.