Veteran Biographies U – Z
There is plenty of room on this page for a picture and/or service record of your Cattaraugus County Civil War ancestor. Email your image and a short service record, together with your name and residence, to CAMP at: [email protected] Need help with sending the image or with the service record? Please ask. We may be able to help! Is your Civil War ancestor pictured in the Memorial Building Dedication Photo? Let us know that, too!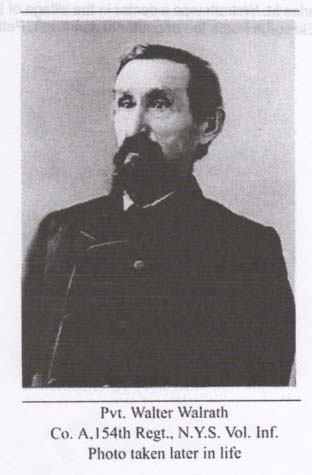 Walter E. Walrath, 154th New York Volunteer Infantry

Walter E. Walrath was born August 28, 1826 in Manheim, Herkermer County, NY to the parents of David and Elizabeth Walrath. His father died when he was 9 years old and he took a job on the Erie Canal driving mules. He left the Erie Canal at the age of 17 and rejoined his mother who moved the family westerly to Cattaraugus County. As a young man he engaged in farming in the Town of Great Valley. In 1850 he married Miss Mary Ann Rickards of that town. They raised 5 children, 1 daughter and 4 sons. On August 1, 1862 he enlisted as Private in Company "A" of the 153th N.Y.V. I. and was discharged with the unit in Bladensburg, MD. Two of sons, Walter D. and John, were prominent business men in Ellicottville in the grocery business. After 1880 Walter retired from farming and moved to Ellicottville to live with one his sons and family. Walter passed away December 11, 1899 and is buried in the Sugartown Cemetery, Great Valley, NY. Another son, Charles M. Walrath was a doctor in the village of Ellicottville for many years. Charles married Laura Elizabeth Pettit, the daughter of Joshua R. Pettit, a veteran of the 154th.